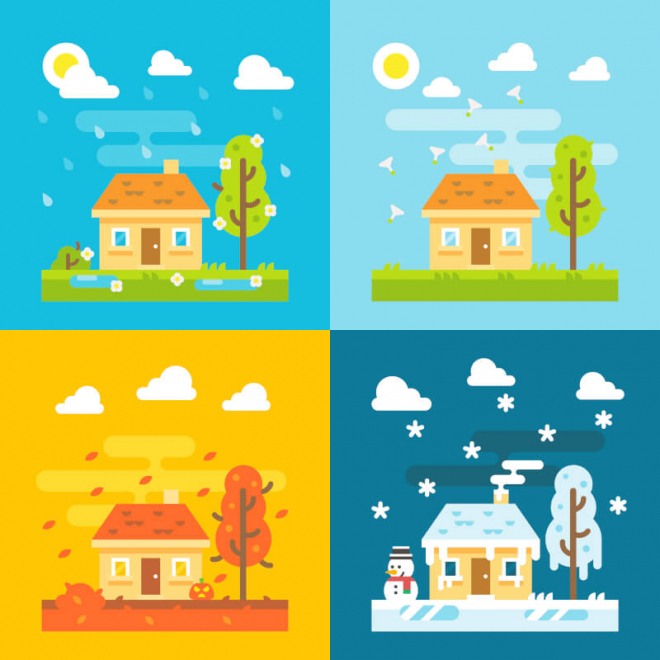 Whether you have been saving up for your first home or you are ready to upgrade to a bigger place, you may be wondering if there is a "best" time to buy a home. While it depends on your priorities and your local market, there are some general home buying trends that could help you make your decision.
Spring & Summer
These are typically the hot home buying and selling months. That means there will be more listings to choose from as a buyer. However, that also means there will probably be lots of other buyers looking at those listings and the competition could heat up. You might need to be prepared to make multiple offers on a property in order to win a bidding war. Having all your mortgage funding lined up in this situation is a must.
Buying in the spring or summer is also ideal if you have school-age kids. You can make your move without uprooting them in the middle of their school year.
When selling your current home is part of buying another home, spring and summer can be a good time because there generally are more buyers shopping for homes during that period. You will probably have better chances of selling your existing home in your required time frame.
Because spring and summer are the busy seasons, you may find home prices to be slightly higher than in the off months. This effect is more pronounced in more harsh climates because it is so much more difficult for buyers to get out to see homes in the winter than the summer. In temperate climates, it may not be much of a factor at all.
Autumn & Winter
According to NerdWallet, houses prices can average 8.45% less in January and February than they do in the summer months. And beyond slightly cheaper prices, you may find that autumn and winter sellers may be more willing to negotiate. This is because either their home is still on the market after not selling in the summer or because they do not have the ability to wait for spring before selling. And with fewer buyers competing for business, mortgage lenders may have more time for you and may even have some sweeter deals.
Another benefit of buying during the fall or winter is that you will have the opportunity to see how well a property stands up to colder conditions. It will be easier to tell if there are drafty windows and doors, if there are roof leaks and if the heating system is effective.
Of course, there are drawbacks of buying in the off-season: fewer property options on the market, less seller and agent availability during the holiday season, and winter can make yards less appealing and moving a nightmare.
While spring and summer are the most popular seasons for home buying, there are benefits to buying at any time of year. If you are financially prepared to take on homeownership, any season can be a good time to buy.
Before you start shopping for a new home, please call Oakpark Mortgage and Loan at 801-221-9400 to get pre-approved for your mortgage loan. Getting pre-approved first will make the home buying process much easier for you.